Research on the healthy human brain is limited, for ethical and health reasons, to looking from the outside in. There are now several remarkable technologies that can measure activity across the whole brain at the level of regions and networks. BrainWorks, one of the Wu Tsai Institute's core facilities operated by the Center for Neurocognition and Behavior, makes these safe and repeatable technologies available to researchers for cutting-edge studies of human brain function. 
BrainWorks is located on the first floor of 100 College Street, with a dedicated entrance at the back of the building easily accessible to research participants. It is designed to encourage and honor a partnership between the humans conducting the studies and the humans participating in the studies.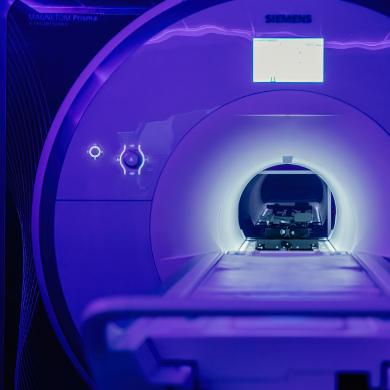 The humanity of researchers and participants is placed at the fore in a welcoming environment that promotes comfort, fun, curiosity, and learning.
Groundbreaking and illuminating studies are conducted with the entire span of human participants, from infants and toddlers, through children and adolescents, to young and older adults. These studies contribute to fundamental advances in our understanding of the human brain and behavior. Through their participation, participants come away from the experience inspired and informed about their own brains and lives.
Equipment
Technologies for studying the human brain in action are advancing rapidly. BrainWorks will house all existing human neurotechnologies when it opens and will continually add new tools when they become available. This shared equipment is divided into four neighborhoods.
Electroencephalography (EEG)
Sleep polysomnography
Near-infrared spectroscopy (NIRS)
Transcranial magnetic stimulation (TMS)
Virtual reality 360° treadmills and headsets
Eye tracking
Motion tracking
Physiology (heart rate, breathing, skin conductance)
Siemens Prisma 3T MRI
Mock scanner
MEGIN Triux SQUID MEG
Cercamagnetics OPM MEG