Microscopy can reveal the structure and function of the brain in exquisite detail at the level of synapses, neurons, and circuits. These tools are the bedrock of molecular and cellular approaches to neuroscience. Yet, when new technologies that promise considerable advances are developed by engineers and physicists, it can take years for them to get commercialized and disseminated to neuroscientists.
The Microscopy Innovation Core, one of the Wu Tsai Institute's core facilities operated by the Center for Neurodevelopment and Plasticity, aims to close this loop, staging brand-new imaging technologies for exploration, use, and refinement by researchers, before they are widely adopted or even available anywhere else.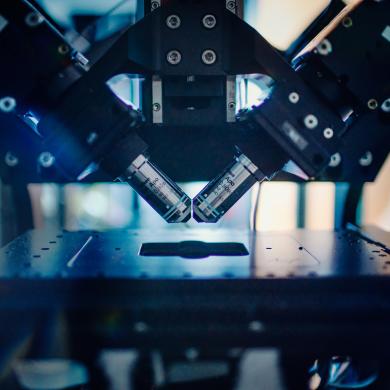 The Core is located on the tenth floor of 100 College Street, near several labs that stand to benefit from these new technologies. Working closely with researchers in the School of Engineering and Applied Science, this facility promotes and benefits from multidisciplinary collaboration, including between optical physics, probe development, and machine learning. The result will be new instruments and approaches that can be deployed immediately in neuroscience research, to enable discovery and to return feedback about further technological improvements and needs. Faculty, postdocs, and students will participate throughout this process, learning to operate powerful new tools in their research. More details are coming soon.